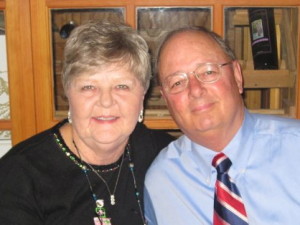 My father got his start in the sign business at age 13 in Jackson, TN.  He later had his own sign business in Fayetteville, NC, so I grew up in the sign business.  To further my experience, I joined a large national sign company in the Southeast in 1969.
Linda, my wife and I had a dream.  We dreamed of moving back to North Carolina with our two young daughters, and opening up our own custom sign business.
On April 1, 1982 (yes, April Fools' Day), Parish Sign and Service, Incorporated opened for business.  At first, we only served Southeastern North Carolina and Northeastern South Carolina.  Over the years we expanded, and now serve our clients all over the United States, even internationally.  Our client's range from small locally owned businesses to large franchises and corporations.
Outgrowing our first facility in 1986, we moved to our current location in Raeford, NC where we have remodeled and expanded four times.  We are continually investing in state-of-the-art equipment, staying on top of the latest trends and technology, and updating software so that we can provide you with the best possible service.
During the last decade, the third generation of the Parish family entered the sign industry.  In 1998, Michael Frye, my son-in-law, joined the family in our expanding business.  Shortly after, in 2001 Dede Frye, our daughter and Michael's wife, began working in our corporate office.  Then in 2009 Renn Harris, our daughter, joined us working in sales and marketing.
The Parish family and staff continue to strive for "A Sign of Excellence", by providing you with custom, quality UL approved signage, as well as, timely, professional, yet personal service.
Thank you for the opportunity to serve you!
Bill Parish
 Founder, Son, Husband, Father, and Grandfather